Tajik Air Cancels all Flights until January 5
Thursday 3 January 2019
DUSHANBE (TTA) — In a statement, Tajik Air informed of the temporary suspension of its flights in some directions.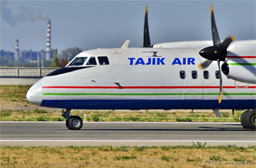 "The airline is obliged to change the flight schedule for January 2019 for commercial reasons, i.e. because of the unprofitable nature of some flights", says the national carrier's press service. "The company calls on media representatives and bloggers not to make the situation worse and not to ask the company to take unrealistic measures", said Tajik Air's press service.
Flights will not be operated this week, particularly to Khujand, St. Petersburg, Tehran and Delhi. It is still not known if flights will be made to these cities next week.
It should be recalled that on 29 November, Tajikistan's President Emomali Rakhmon criticized the management of Tajik Air, the national airline, and ordered an inspection of its activities to be carried out.