Friday 19 October 2018
Saudi Al-Bawani Exploring Investment in Tajikistan
Keywords: Saudi Arabia
0 forum post
DUSHANBE (TajikTA) — The Saudi construction company Al-Bawani, and Tajikistan discussed opportunities for investment and cooperation.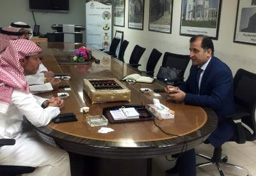 Al-Bawani is one of the largest private Saudi enterprises operating in the field of construction, trade and investment.
"The Ambassador of the Republic of Tajikistan in the Kingdom of Saudi Arabia, Zarobiddin Kosimi, during a meeting with the Director General of the Al-Bawani Company, Fahrom Abdulmumin Al-Bawani, discussed issues related to the establishment of trade and investment cooperation with Tajikistan", reports the information department of the Ministry of Foreign Affairs of the Republic of Tajikistan.
Both sides expressed interest in using the huge existing potential of bilateral cooperation.
Saudi Arabia is considering Central Asia as its next battle ground to fight Iran. Central Asia has religious fractions with a potential to form militias, political loyalties divided between USA and Russia and geopolitical location near the Chinese.