Rahmon Congratulates Emmanuel Macron on French Election Victory
Friday 12 May 2017
DUSHANBE (Asia-Plus) — Tajik President Emomali Rahmon has congratulated Emmanuel Macron on his victory against Marine Le Pen in the French presidential run-off. In his message of congratulations, President Rahmon, in particular, noted that Tajikistan highly appraises the current level of cooperation with France and "considers an effective cooperation with France an important direction of its foreign policy."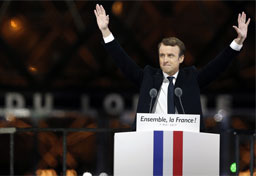 Rahmon expressed hope that cooperation between Tajikistan and France would enter a new phase of development.
Tajikistan opened an Embassy in Paris in September 2013. While visits are infrequent, the Minister of Defence has made regular stopovers in Tajikistan to visit the Détair. During his trip to Central Asia, Mr Le Drian travelled to Dushanbe on 18 July 2012, the date of the last visit by a French government representative in Tajikistan.
The France-Tajikistan (National Assembly) and France-Central Asia (Senate) friendship groups have made several visits to the region. The last mission of the Interparliamentary France-Central Asia group took place in Kyrgyzstan and Tajikistan in September 2013. The President of the Senate of Tajikistan, Mr Ubaidulloev, met his counterpart in Paris in June 2014.
On 26 November 2014 in Paris, the Minister of Economic Development and Trade, Mr Rahimzoda, met the Secretary of State for Foreign Trade, the Promotion of Tourism and French Nationals Abroad, Mr Matthias Fekl.