Friday 16 October 2015
Rahmon calls CIS members to take firm actions against terrorism
Keywords:
0 forum post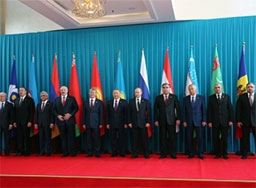 BURABAY (Avesta news agency) — Tajik President Emomali Rahmon on Friday called his counterparts from the Commonwealth of Independent States (CIS) to take strict actions against terrorism, the presidential press service said.
In his statement made at the CIS summit in the Kazakh village of Burabay, Rahmon said that under the conditions of instability in many regions of the world, financial crisis and intensification of regional confrontations there ought to discuss solutions to many problems within the frameworks of the CIS.
Rahmon highlighted the necessity of providing security, strengthening borders and expanding humanitarian cooperation. He also expressed concern about intensification of activities of extremist groups and youth joining extremists groups. Tajik president called his CIS counterparts to take efficient measures to address modern challenges and threats.