Friday 20 March 2015
Nowruz 2015 in Dushanbe
Keywords:
0 forum post
DUSHANBE – The principal public celebration of Nowruz in Dushanbe will take place on March 24. The event will take place at the Navrouzgoh (نوروزگاه) Complex, Shavkat Saidov, a spokesman for the Dushanbe Mayor's office, told Asia-Plus in an interview.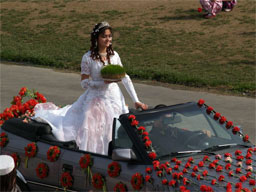 This year in Tajikistan, there will be six days off on the occasion of the Nowruz (Navrouz, نوروز) holiday – from March 21 to March 26.
Besides, official events to celebrate Nowruz will be held in Dushanbe on March 21. Tomorrow, concerts and festive events will be made by musicians and artistes in all Dushanbe's districts. On this occasion, the City Hall of Dushanbe will organize a simultaneous wedding ceremony for 80 couples.
A citywide action on planting trees will take place on March 23.