Wednesday 2 October 2019
New Woman Run Bank to Open in Tajikistan
Keywords:
0 forum post
DUSHANBE (Satrapia) — Arvand Bank CJSC received its operating licence from the National Bank of Tajikistan (NBT) for its banking operations,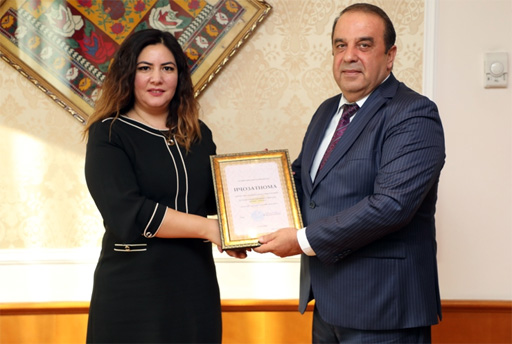 The regulator's press service stated that the licence granted to Arvand Bank's President, Shoira Sodikova, was granted by NBT's President himself, Jamshed Nur-Mahmadzoda. Mrs. Sodikova is currently the only woman in the country to run a commercial bank.
The new bank has been set up by the association of MDO Arvand Ltd. and CJSC AccessBank Tajikistan. The licences previously issued to these credit institutions have been revoked.
MDO Arvand was one of the main microfinance institutions in Tajikistan. The organization was founded in 2002 as part of a regional microfinance project in the Ferghana Valley, implemented by the ACDI/VOCA office in Tajikistan. Arvand was involved in loans to low-income families and micro-entrepreneurs. Other services of this organization included deposit accounts, funds transfers, foreign exchange and cash management services.
The founders of MDO Arvand were the MicroInvest MFF fund, LLC MCC "Frontiers", the Triodos Fair equity fund, the Triodos microfinance fund and the Rural Impulse fund.
CJSC AccessBank Tajikistan was one of 17 commercial banks in the Republic. In terms of authorized capital (80 mln somoni), this organization ranked 8th among the country's banks. All of the shares of this bank belonged to Access Microfinance Holding AG CJSC.