Thursday 27 December 2018
King Salman to Provide $500k Technical Assistance to Tajikistan
Keywords: Saudi Arabia
0 forum post
DUSHANBE — King Salman's Humanitarian Support and Assistance Centre in Saudi Arabia will provide $500,000 in technical assistance to the Committee for Emergencies and Civil Defence of Tajikistan.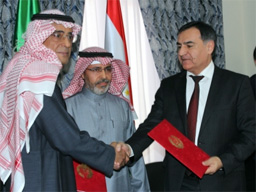 The Pedagogical and Methodological Centre in Dushanbe, as part of the ongoing humanitarian cooperation in the field of disaster preparedness, management and risk reduction between the CSU and King Salman's Humanitarian Support and Assistance Centre, organised the signing of a memorandum on the provision of technical equipment to the EPR relief units. The Ambassador of Saudi Arabia to Tajikistan, Abdulaziz ibn Muhammad al-Badi, attended the signing ceremony of the document.
According to the signed document, King Salman's Humanitarian Support and Assistance Centre will provide the committee with a bulldozer, a crawler excavator, a 40-ton automatic trailer, an all-terrain vehicle with eight lifeguard spaces and a pickup off-road vehicle. This material is intended for mobile rapid response teams created to intervene after natural disasters.
In addition, a contract was signed for the purchase of a tracked excavator on behalf of the Land Rehabilitation and Irrigation Agency of the Government of the Republic of Tajikistan. Funds for the purchase of equipment will also support King Salman's Humanitarian Aid Centre in Saudi Arabia.
The memorandum was signed by the representative of King Salman's Centre for Humanitarian Support and Assistance of Saudi Arabia, Ahmad Beese, and by the Head of the Council of Europe of Tajikistan, Rustam Nazarzoda.