Japan Grants Tajikistan $31 mln for Road Reconstruction
Wednesday 4 September 2019
DUSHANBE (Avesta news agency) — The Japanese government has allocated $31 mln for the reconstruction of the Kyzylkala-Bokhtar section of the Dushanbyue-Bokhtar highway.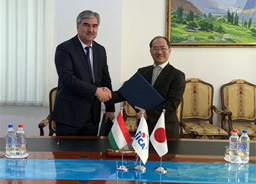 The Minister of Finance of Tajikistan, Fayziddin Kahorzoda, and the Head of the Japan International Cooperation Agency (JICA) Representation Office in the Republic of Tajikistan, Mr. Hideki Tanabe, signed the grant agreement on the eve of the run-up to the Project to rehabilitate the Kyzylkala-Bohtar section of the Dushanbe-Bohtar Road.
According to the JICA office in Tajikistan, the Japanese government has allocated ¥323.2 bln for the implementation of this project and ¥117 mln for detailed design (about $31 mln) through JICA. The objective of the project is to increase transport and traffic safety, thus contributing to the economic development of Tajikistan.
Expressing his gratitude to JICA for its cooperation, Mr. Kahorzoda stressed the importance of increased cooperation for the restoration and reconstruction of other roads in the country.
Mr. Tanabe expressed confidence that this project would contribute to the future development of Tajikistan.
Whereas the Dushanbe-Bokhtar motorway will be rehabilitated, the entire road linking Dushanbe-Nijni Pyanj (border region with Afghanistan) will be improved and will contribute to the development of logistics between the two countries.
JICA intends to continue its cooperation in the transport sector, with a focus on road asset management in close collaboration with the Ministry of Transport and other development partners.