Thursday 1 February 2018
Investment Agreement on Pakrut Gold Deposit Ratified
Keywords:
0 forum post
DUSHANBE (Avesta news agency) — The Majlisi Namoyandagon (lower house of parliament, مجلس نمایندگان) of Tajikistan ratified the investment agreement signed last April between the Government of Tajikistan, KrysoResourcesLimited and Pakrut LLC on the development of the Pakrut deposit in the rural Ramat Jamoat of the city of Vahdat.
Speaking to the deputies, the Chairman of the State Committee for Investments and Management of State Property of the Republic of Tatarstan, Farrukh Hamralizoda, noted that all shares of OJSC Pakrut belong to the Chinese side. In 2030, gold mining under this project can by mutual consent move under the jurisdiction of Tajikistan.
The parliament stressed that the development of the Pakrut field was started by the Chinese side in 2012, more than $180 mln has been spent for its implementation to date, and more than $76 mln is planned to be raised.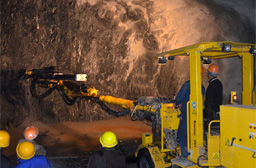 The Pakrut gold mine, located approximately 120 km north-east of Dushanbe, is owned by China Nonferrous Gold (formerly known as Kryso Resources). The mine development is being undertaken in two phases, which are expected to cost $223 mln in total. The mining license for the Pakrut gold project was issued in January 2012 and is valid until November 2030. Construction of the mine began in September 2012 and the first gold was poured in December 2015. The mine is estimated to initially process 660,000t of ore a year and 1.32 mln tonnes a year from 2017.
According to the director of the Chinese company, Mr. Li Yu, in July this year the company will start gold mining and by the end of 2018 intends to produce up to 207 kg of gold at the Pakrut deposit. In the future, gold production should reach 1-1.5 tons per year. Since the beginning of operations in Tajikistan, the Chinese company has transferred over 230 mln somoni ($26 mln at the current rate) to the state budget as taxes.
In addition, due to this company, roads, bridges, electric power lines, a concentrating mill, and other infrastructure were built at the site of the project.
To date, the project involves 480 Tajik citizens and 120 Chinese citizens. According to the agreements reached, more than 2,000 people will be provided with jobs in the future, of which 20 percent will be Chinese citizens, 80% citizens of Tajikistan.
All equipment and machinery imported from China to Tajikistan for the implementation of the project are exempt from VAT and customs payments.
According to the agreements, the Chinese company undertakes to sell the mined gold to the Ministry of Finance and the National Bank of Tajikistan at world prices only in Tajik national currency Somoni.
The Chinese company will pay all taxes from the extracted gold to the budget of Tajikistan, the total amount of taxes will be 40% of the profits.