Tuesday 31 July 2012
In Khorog Group of Armed Young People Surrenders Weapons
Keywords:
0 forum post
DUSHANBE (Avesta News Agency) – A group of young people members of the armed group in the East of Tajikistan who clashed with the law enforcement officers in Khorog (خاروغ), surrendered weapons on Saturday night, reported Tajikistan Ministry of Interior on Sunday.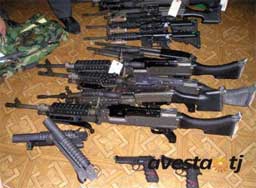 A group of confused young people who picked up arms and revolted against law enforcement bodies, surrendered weapons, including guns, rifles and other weapons on July 18, 2012. According to the Ministry, young people are residents of the village close to bread factory, one of the districts of Khorog.
The special operation started in Khorog on July 24 with the aim to neutralize Ayombekov's crime group, which is supposedly behind the murder of national security senior official Abdullo Nazarov.
According to official information, 30 gunmen were killed and 40 were detained, including 5 citizens of Afghanistan among them. 17 law enforcers died and 40 were wounded in the operation. The authorities deny reports about casualties among civilians. However, according to unofficial information, victims among civilians account for several dozens.
"Civil activists of Khorog initiated a campaign to surrender all weapons," said in the Ministry and reminded that those who voluntarily surrender weapons obtained in illegal way will be released from liability. "This measure is taken to preserve peace and stability in the region. We hope that illegally obtained weapons will be fully surrendered in a short time," said in the Ministry.
The Ministry claims that the situation in the region is calm, local residents are busy with their daily duties.