Thursday 4 May 2017
Forum of Restaurateurs Held in Dushanbe
Keywords:
0 forum post
DUSHANBE (Asia-Plus) — Dushanbe has hosted an international forum of restaurateurs that has provided opportunities for owners and administrators of local restaurants and cafes to discuss issues related to viability of their facilities, problems of personnel haemorrhage and so forth.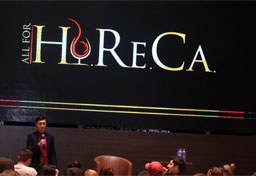 Horeca (also HoReCa, HORECA) is an abbreviation used in Europe for the food service industry. The term is a syllabic abbreviation of the French words Hôttel/Restaurant/Café. This sector is one of the fastest growing in Europe. In 2004, more than 7.8 mln people were employed and the sector generated more than 338 bln turnover.
In the Horeca forum held at Dushanbe, Sanjar Maksudov, President for Jowi, Inc, has been invited to share his experience on how to increase profits, reduce account errors as well as control all mechanisms and processes with help of automation system.
Jowi is a hybrid restaurant automation system, which combines online and offline approaches. The application allows full control over client account inside the restaurant system. Available features such as control of the balance of deposit, online ordering, online booking table, view bills, calling waiter, participation in marketing programs of the restaurant. All of these features are available when you install the software for the automation of the restaurant.
The second speaker was Roman Toroshchin, Vice-President of Russian Bartenders' Association and an official representative of Monin in CIS. Toroshchin told the forum participants what the correct cocktail map is. Monin is a French company producing liqueurs and syrups.