Friday 15 May 2015
Foreign Citizens Temporarily Prohibited From Visiting Gorno Badakhshan
Keywords:
0 forum post
DUSHANBE (Asia-Plus) – Tajik authorities have suspended issuing permits to foreign citizens for visiting the Gorno Badakhshan Autonomous Region (GBAO).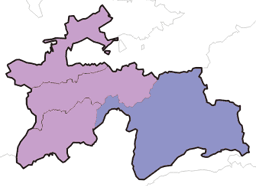 Rezo Nazarzoda (رضا نظرزاده), the deputy head of the Committee for Youth, Sports and Tourism Affairs under the Government of Tajikistan, says entry of foreign citizens to Gorno Badakhshan (کوهستان بدخشان) has been temporarily suspended because of uneasy situation in Afghanistan's districts bordering the region.
"As soon as the situation in the neighbouring country changes for the better we will resume issuing permits to foreign citizens for visiting Gorno Badakhshan", Nazarzoda said, noting that tour operators know about that suspension.
GBAO covers all the eastern part of the country and borders in the East – the Xinjiang Province of China, in the West and South – the Badakhshan Province of Afghanistan, and in the North – the Osh Province of Kyrgyzstan.
Radio Liberty reports that there has been a lot of trouble across northern Afghanistan in recent months and one reason is the arrival of militants from the Islamic Movement of Uzbekistan (IMU). When the Pakistani military started a large-scale operation in North Waziristan last spring it reportedly chased IMU militants from their safe havens and sent them, with their families, across the border into northern Afghanistan. Since then they have spread out from the Badakhshan Province in the east to Badghis Province in the west.