Friday 12 October 2018
First Chinese Premier Visit to Tajikistan
Keywords: China
0 forum post
DUSHANBE (Asia-Plus) — Li Keqiang arrived in Dushanbe yesterday on an official visit and to participate in the 17th meeting of the Shanghai Cooperation Organization (SCO) Council of Heads of Government (CHG). It is Li's first visit to Tajikistan.
On the official visit, Chinese official is expected to discuss with Tajik leaders on development of bilateral ties under new circumstances, cooperation under the Belt and Road Initiative, as well as important international and regional issues. Documents on trade, customs and local cooperation are expected to be signed.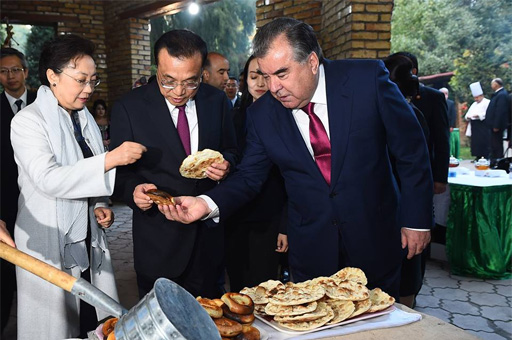 Tajik President Emomali Rahmon yesterday gave an informal banquet for visiting Chinese Premier and his wife. Tajik leader chose Dushanbe's Boghi Iram Park (باغ ارم) to host the informal banquet.