Monday 5 August 2019
Financial Cooperation Agreement between Tajikistan and Germany
Keywords: Germany
0 forum post
Dushanbe (Satrapia) — Tajikistan and Germany have signed a financial cooperation agreement for a total amount of €27 mln.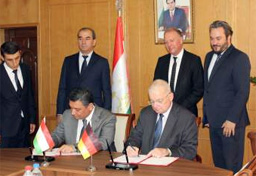 According to the Ministry of Economic Development and Trade of Tajikistan, the funding will be used to implement projects to strengthen rural development through the use of suitable land and natural disaster risk reduction, as well as the construction of the Sebzor hydroelectric power plant.
Previously, the EU had supported the Sebzor HPP project to develop agriculture and improve the living standards of the disadvantaged classes of the population of Tajikistan. The Sebzor hydroelectric power plant is expected to be built on the Shokhdara River in the Gorno-Badakhshan Autonomous Region. It is planned to produce up to 60 mln kWh per year on the small Sebzor HPP with a capacity of 10 MW.