EBRD Expands Cooperation with Tajikistan's Banking System
Thursday 14 June 2018
DUSHANBE (Avesta news agency) – Neil McKain, the European Bank for Reconstruction and Development (EBRD) Regional Director for Central Asia, yesterday met with Jamoliddin Nouraliyev, the First Deputy Head of the National bank of Tajikistan (NBT).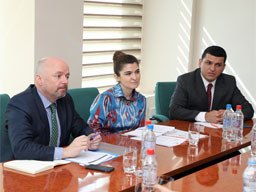 Prospects for the development of cooperation were discussed yesterday at the meeting of the first deputy chairman of the NBT with the regional director of the EBRD.
As the NBT press center informs, the meeting discussed current projects in the country's banking system, corporate governance, the implementation of new projects to support small and medium-sized businesses, as well as EBRD projects in the regions.
J. Nuraliev drew the EBRD representative's attention to strengthening cooperation in the country's banking system, especially in strengthening supervision over the activities of credit institutions, increasing the responsibility of the Supervisory Board, and so on.
In turn, Neil McCain said that this year seven projects will be implemented in the banking and financial system of Tajikistan, and priority areas for cooperation with the NBT in the near future will be determined.
Also were discussed issues of cooperation on macroeconomic indicators and communication policy, which are related to the targeting of inflation and collateral for property on the basis of amendments adopted to the relevant legislation.
The first deputy chairman of the NBT expressed interest in cooperation in financing priority infrastructure and industrial projects, as well as developing the banking system and supporting small and medium-sized businesses.