Cooperation between Tajik and Qatari Museums Discussed in Doha
Monday 12 February 2018
DOHA (Avesta news agency) – The Department of Information of the Ministry of Foreign Affairs of the Republic of Tajikistan reported that the Tajik Ambassador to the State of Qatar Khisrav Sohibzoda (خسرو صاحبزاده) held a meeting with Qatar Museums Authority Mansour bin Ibrahim Al Mahmud to discuss issues of development of mutually beneficial cooperation in the field of museum practice and preservation of cultural and historical heritage.
In this regard, the sides noted the need to exchange specialists and experience in the field of museology, conduct training courses and the importance of joint organization of exhibitions of historical and cultural heritage in the further strengthening of friendly relations between the peoples of Tajikistan and Qatar.
The Office of the Museum of Qatar expressed its readiness to promote the promotion and presentation of the rich cultural heritage of the Tajiks in the museums of Qatar and supported the initiative to sign an agreement on cooperation with the National Museum of Tajikistan.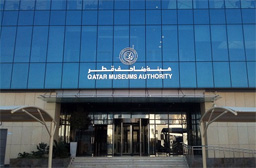 The Qatar Museums (QM) is the lead body for museums in Qatar. Established in 2005 by Sheikh Hamad bin Khalifa Al Thani, former Emir of the State of Qatar, the QM aims to combine the resources of all museums in Qatar, providing a comprehensive organization for museum development and establishing an effective system for collecting, protecting, preserving and interpreting historic sites, monuments, and artefacts
In addition to the Museum of Islamic Art (MIA), Mathaf (Arab Museum of Modern Art), the QM currently oversees MIA Park, QM Gallery at Katara, Al-Riwaq Doha Exhibition Space, the Al-Zubarah World Heritage Site Visitor Centre, and archaeological projects throughout Qatar, as well as the development of future projects and museums that will highlight its collections and areas of activity of interest to the Qatari people, including Orientalist art, photography, sports, children's education, and wildlife conservation.