Belarus, Tajikistan keen on Expanding Ties
Sunday 30 October 2011
DUSHANBE (BelTA) – Belarus and Tajikistan are determined to expand the bilateral cooperation, Belarus President Alexander Lukashenko said as he met with President of Tajikistan Emomali Rahmon at an extended session on 28 October, BelTA has learnt.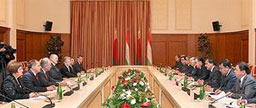 "Today's meeting has marked a new stage in the development of Belarus-Tajikistan relations. We are seriously determined to deepen our ties," Alexander Lukashenko said.
The Belarusian President noted that despite the distance, the two peoples have many decades of close cooperation and mutual assistance. "Tajikistan is our important partner in Central Asia. The ongoing visit and the meaningful conversation with Emomali Rahmon are a testimony to that," the Belarusian head of state said.
In his words, amidst the global political instability and the global financial and economic crisis, the two countries are marching towards a stronger statehood and social and economic prosperity. The understanding of essential national interests and their persistent promotion on the international arena are the inviolable principles shared by Belarus and Tajikistan, Alexander Lukashenko emphasized.
The parties are set to discuss a wide range of issues and outline prospects of the mutually beneficial Belarus-Tajikistan cooperation, first of all, in trade and economy. This pertains to supplies of Belarusian farm machines and heavy-duty and quarry machines to be used by Tajik construction companies, hydropower installations and mining facilities. Besides, top on the agenda of the meeting is participation of Belarusian construction and engineering companies in major infrastructure projects in Tajikistan, assimilation of Belarus' experience in upgrading production facilities, exchange of expertise and knowledge in agriculture, construction of agricultural complexes, agro towns, and transport communications, as well as humanitarian cooperation.