Attack on Cyclists Was a Terrorist Coup
Tuesday 31 July 2018
DUSHANBE — According the Ministry of Internal Affairs of Tajikistan, the attack on tourists in Dangara district of Khatlon was a planned action. The Ministry declared that that the organizer was a member of the banned Islamic Renaissance Party of Tajikistan (IRPT).
The Ministry declared:
On July 29, at about 3:30 PM an armed criminal group on a "Legansa" car on the Kulyab-Dushanbe highway, in the village of Safobahsh of Dangara District, Khatlon region, attacked a group of foreign cyclists consisting of 7 people — citizens of the United States, Switzerland, the Netherlands and France, moving on bicycles from Kulyab in the direction of Dushanbe.
After committing a deliberate attack with the intention of murdering, the criminals snatched knives and axes and caused deadly injuries, then fled the scene of the crime.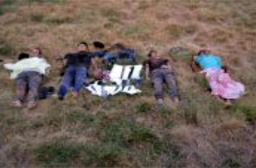 As a result, two US citizens, Austin Jay and Anne Munots, Dutch citizen Voke Renn Willem and Swiss citizen Hamel Marcus were killed. Two Swiss citizens Kim Iris and Dimend Marie Claire were injured and taken to the hospital. Citizen of France Casabat Guillaume Gean were not injured.
Concerning the organizers of the attack, the Ministry stated:
The leader of the criminal group, Hussein Abdusamadov, who was detained, confirmed that he had received ideological and military-sabotage training in Iran in 2014-2015. He also met with Nosirkhuja Ubaidov, nicknamed Kori-Nosir and joined the extremist group of the IRPT.
The Ministry informs that the sponsor is N. Ubaydov, who has been a member of IRPT since 1992 and has been put on wanted list since 2015. According to the ministry, after committing the crime, young people intended to cross the border and join a terrorist organization. The website of the Ministry of Internal Affairs also published the names and photographs of the members of the criminal group. The terrorist group "Islamic State" took responsibility for the attack.
The US Embassy sees no threat to the Americans in Tajikistan. However, the American diplomatic mission calls on American citizens to be vigilant about their surroundings and to seek help from the embassy.