Monday 12 February 2018
$40 mln for the Development of Agriculture of Tajikistan
Keywords:
0 forum post
ROMA (Avesta news agency) — The signing ceremony of the Financing Agreement for the Community-Based Agriculture Support Project was held between the International Fund for Agricultural Development and the Republic of Tajikistan in the middle of last week in Rome, Italy. The agreement was signed by the President of the International Fund for Agricultural Development Gilber Fossun Hungbo and Finance Minister of Tajikistan Fayziddin Kakhorzoda.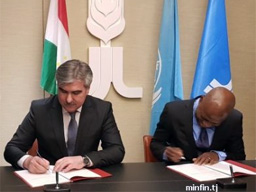 The goal of the project is to improve the access of the rural population to production infrastructure and services, increase agricultural productivity, reduce crop losses and production costs through the introduction of modern technologies and mechanisms, taking into account the reduction of the consequences of natural disasters and adaptation to climate change.
The project aims to improve the living standards of over 48,000 poor families in such cities and regions of Tajikistan as Devastich, Shahristan, Dusti, Jaihun, Nurek, Rasht and Tajikabad.
The total amount of the agreement is $39.3 mln, of which $15.3 mln is a loan and another $15.3 mln is a grant from the International Fund for Agricultural Development. The contribution of the Government of Tajikistan is $4.9 mln, and the contribution of the beneficiaries will be approximately $1.6 mln.
In addition, a contribution of approximately $1.9 mln is expected from private providers of agricultural mechanization services. The Co-financing of the Food and Agriculture Organization (FAO) of $250,000 through the Technical Co-operation Program will facilitate the provision of technical assistance and training of suppliers equipment.
The completion of the project is expected in 2024, the press centre of the Ministry of Finance of Tajikistan reports.