Wednesday 18 September 2019
Kazakhstan & China Discuss Expansion of Uranium Shipments
Keywords: China, Hungary, IAEA, India
0 forum post
NUR-SULTAN / EX ASTANA (KazInform) — The Kazakh delegation headed by Kanat Bozumbayev, Minister of Energy, is participating in the 63rd annual ordinary session of the IAEA General Conference, which is being held from 16 to 20 September 2019 at the Vienna International Centre (VIC) in Vienna, Austria, according to the press office of the Ministry of Energy of Kazakhstan.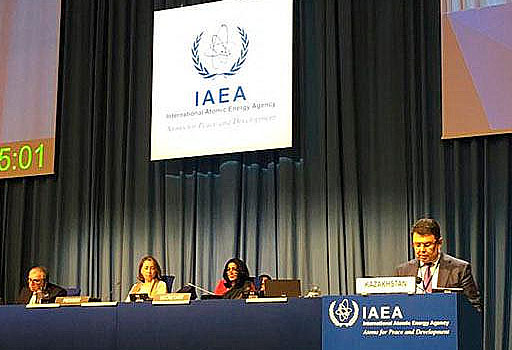 As part of the session, K. Bozymbayev organized a round table with the representative of the Indian Atomic Energy Commission. The Minister of Energy noted that the Kazakh side has expressed its readiness to conclude new contracts for the delivery of uranium to India. The parties agreed to strengthen cooperation in the atomic field.
Mr. Bozumbayev held also a meeting with representatives of the Hungarian Ministry of Foreign Affairs. The parties examined MOL GROUP's activity and future investment projects in Kazakhstan. Over the past 10 years, MOL has invested more than $200 mn in Kazakhstan. This makes MOL one of the main players in trade relations between the two countries. The Hungarian government supports the activity of MOL in Kazakhstan. In addition, the informants also discussed the continued cooperation between the Ministry of Labour and KMG as well as with the governments of both states.
Kanat Bozumbayev met as well with representatives of the state-owned Rosatom. The Parties discussed the implementation of the Low Enriched Uranium (LEU) agreement obtained from Highly Enriched Uranium (HEU) (SC Rosatom) as well as the results of measures taken to reduce uranium production in the Republic of Kazakhstan in 2018-2020 that had a positive effect on the market price of uranium.
At a meeting with the President of the Chinese Atomic Energy Authority, K. Bozumbayev noted that China and Kazakhstan have many years of experience in nuclear cooperation. According to him, companies in both countries are cooperating in the supply of fuel pellets to the PRC and in the joint construction of a nuclear fuel production plant in Kazakhstan. In conclusion, the parties discussed the expansion of the delivery of uranium and next year's deliveries of Kazatomprom's fuel assemblies.