Wednesday 2 June 2021
Kazakhstan Raises Kashagan's 2021 Target
Keywords: Kashagan Oil Field, Tengiz Oil Field
0 forum post
ALMATY (Interfax-Kazakhstan, KazInform) — Kazakhstan now expects the Kashagan field to produce 15.15 mln tonnes of oil this year or an increase of 4.5% from the previous outlook of 14.5 mln tones, the press service of the Kazakh government said on Wednesday.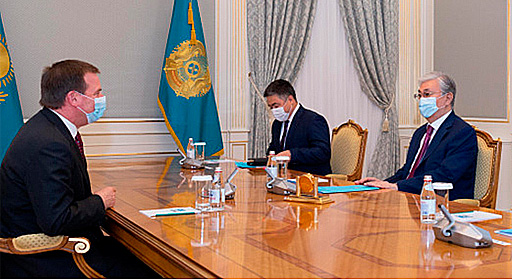 Kazakh President Kassym-Jomart Tokayev has received Senior Vice President of Exxon Mobil Corporation Neil Chapman. During the meeting, Tokayev and Chapman discussed the prospects of cooperation between Kazakhstan and Exxon Mobil, the implementation of a number of projects in the hydrocarbon sector, "green" technologies development, as well as the situation on the global energy market. The Kazakh Head of State was reported about the development of Kashagan and the expansion of the Tengiz field.
In a following meeting with the Prime Minister Askar Mamin, Chapman discussed the implementation of joint investment projects in exploring, producing, and transporting raw hydrocarbons, including Tengizchevroil's further expansion project and wellhead pressure management project, development of the North Caspian project, and modernization of the Caspian Pipeline Consortium oil pipeline. Special focus was placed on prospects of further development of Kashagan, where 15.1 ;mln tons of oil were produced in 2020, 7.1% more than in 2019. In 2021, it is planned to produce 15.15 mln tons of oil at the oilfield.
Since 1993 Exxon Mobil has funneled over $26 bln into the Kazakh economy.