Tuesday 14 April 2015
Zoroastrians to Take Part in Congress of Leaders of World and Traditional Religions
Keywords:
0 forum post
ASTANA (KazInform) – Ambassador of Kazakhstan to India Bulat Sarsenbayev held meetings with religious leaders of the country. He met with president of the world council of cultural heritage of Zarathustrian Homie Burjor Dhala in Mumbai. The Kazakh diplomat handed over him the invitation from Kassym-Zhomart Tokayev to participate in the 5th Congress of Leaders of World and Traditional Religions in Astana.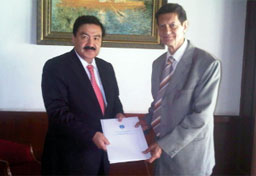 Representatives of Zoroastrianism from India assured the Kazakh side that they would take part in the work of the Congress scheduled to be held on June 10-11, 2015, in Astana, the press service of the Ministry of Foreign Affairs of Kazakhstan informs.
Zarathustra is believed to be from Central Asia. In his book The Tajiks in the Mirror of History, Rahmon, the president of Tajikistan, asserts that the Iranian prophet came from the actual Tajikistan:
The Vendidad tells us that the prophet was born on the banks of the Dorich Daryodiya River in the land named Vangukh Doytiyo. From some other passages we learn that the house of Zarathustra's father was located by the Daredna River. The fifth yasht in the Vendidad tells us that when Zarathustra was praying and drawing water from the Daredna River, he received a divine revelation of his mission to be a prophet from the angel Vakhumanah. We take the view that this happened near the Vakhsh temple which can be considered to be situated at Doytiyo. On this very spot Zarathustra instead of the face of the angel Vakhumanah saw Ahura Mazda in a circle of flame and after that he began to prophesy.
There is also conversions to Zoroastrianism among Kazakhs.Read more here (in Persian).