Friday 30 April 2021
Zarif Holds Talks with Houthi Leader in Oman
Keywords: Iran, Oman, Yemen War
7 forum posts
MUSCAT (ONA) – Iran's foreign minister met Houthi militia representatives in Oman on Wednesday, to express Tehran's support for a cease-fire and a return to talks to end the country's long conflict.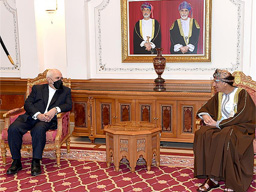 At the talks with Houthi spokesman Mohammed Abdul Salam, Mohammad Javad Zarif "once again stressed our country's view regarding the political solution being the only solution to the crisis of Yemen", the Iranian foreign ministry said in a statement. The foreign minister "emphasised our country's support for a cease-fire and Yemeni-Yemeni talks".
Several meetings have taken place in past years between Iran's chief diplomat and the Houthi spokesman in the Omani capital.
Zarif's comments came a day after Saudi Crown Prince Mohammed bin Salman called on the Houthis to stop fighting and enter peace negotiations.
The war in Yemen, in which tens of thousands of people have been killed since the conflict erupted in 2014, has flared anew in the past two months with a Houthi campaign to seize Marib.
Saudi Arabia has proposed a "comprehensive" cease-fire and a return to the negotiating table, a proposal that the Houthis immediately rejected.