Thursday 27 December 2018
Two Police Officers Killed in Southern Iran
Keywords: Iran
0 forum post
TEHRAN (Mehr News) — Independence activists opened fire on Iranian law enforcement, killing two people and injuring two in Bardir district, in southern Kerman province.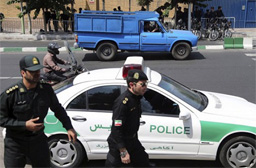 According to Kerman Provincial Prosecutor Amin Nahai, two wounded soldiers are being taken to the hospital. However, their injuries do not endanger their lives.
The prosecutor explained that the police had pursued a suspicious car, which had been hit by a car because of its high speed, but that the activists had opened fire on the police, killing two people and injuring two.
According to him, the armed men fled after the shooting and the police are still searching.