Friday 1 February 2019
Twitter Registers Attempts to Influence US mid-Term Elections from Iran
0 forum post
NEW YORK (TASS) —. The administration of social network Twitter announced in its statement on late Thursday that it registered attempts to influence mid-term elections in the United States in 2018 by means of accounts, which allegedly originated from Russia, Iran and Venezuela.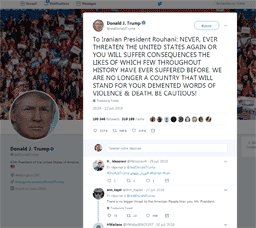 The statement said that after a thorough analysis of the activities on the social network during the elections, attempts were registered to convince Americans against voting, however, most of the Tweets originated in the United States.
"[…] we removed content that attempted to influence an election by deterring groups of eligible voters, particularly through voter intimidation or providing false information about voting or registering to vote", the statement reads. "The number of problematic examples was relatively small. We took action on nearly 6,000 Tweets we identified as attempted voter suppression, much of which originated here in the United States."
The document states that "In contrast to 2016, we identified much less platform manipulation from bad-faith actors located abroad."
"That said, as part of our ongoing review we found limited operations that have the potential to be connected to sources within Iran, Venezuela, and Russia", the statement reads. "The majority of these accounts were proactively suspended in advance of Election Day due to the increasingly robust nature of our technology and internal tooling for identifying platform manipulation."
Twitter also added in its statement that "In September 2018, Jack Dorsey testified on Capitol Hill on recent activities affiliated with the Russian Internet Research Agency (IRA), disclosing that Twitter had suspended a total of 3,843 accounts."
"Our ongoing efforts have uncovered an additional 418 accounts. We cannot render definitive attribution to the IRA for these accounts, although most appear to originate in Russia, and much of the behavior mimics the activity of prior accounts tied to the IRA", the statement added.