Monday 17 June 2019
Turkish Fighter Mockup to Be Unveiled at Paris Air Show
Keywords: Turkey
0 forum post
LONDON (Aviation Week) — Turkish Aerospace Industries (TAI) will debut a full-scale mockup of its TF-X/MMU indigenous fighter at the Paris Air Show next week. The company's chief executive, Temel Kotil, and Turkish government officials are expected to lift the veil on the mockup on June 17, the show's opening day.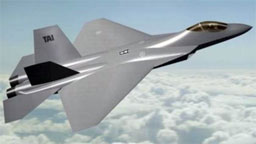 Although already delayed by several years, the flagship program aims to roll out a prototype in 2023 and take flight in 2026 before deliveries to the primary customer, the Turkish Air Force, begin in the early 2030s. Turkey aims to replace its locally-assembled F-16s with the twin-engine, fifth-generation fighter.
Revealing the TF-X is part of a large Turkish Aerospace presence at this year's show, which also includes mockups of the Hurjet jet trainer and the T625 Gokbey utility helicopter. However, the U.S. has threatened sanctions that may impact Turkish programs, including the TF-X, which will be reliant on U.S.-made General Electric engines for the initial prototypes.