Thursday 22 November 2018
Turkey Ready to Consider Buying US Patriot
0 forum post
ANKARA (TASS) — Turkey is looking forward to getting the first batch of Russia's air defence systems S-400, but at the same time stays ready to consider a good proposal for acquiring US systems Patriot, should it be made, Turkish presidential spokesman Ibrahim Kalin told a conference entitled Russian-Turkish Relations: Shaping an Image of the Future on Thursday.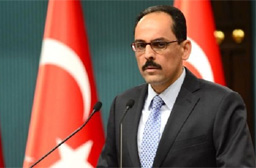 "The first battery of S-400s will be provided next year. Then we will begin their joint production. But Turkey never relies on the sole proposal it has. We should be judged from this point of view. Should we come to terms with the United States over the Patriot system, get a good proposal and agree on joint production, then we will accept it", Kalin said, adding that Turkey was purchasing these systems to defend itself and had no intention to attack anybody.
The first reports Russia and Turkey were in talks over S-400 systems emerged in November 2016. Russia confirmed the conclusion of the contract on September 12, 2017. Turkish Defence Minister Hulusi Akar said the S-400 would begin to be deployed in October 2019.
Rostec corporation CEO Sergei Chemezov said in December 2017 that the S-400 contract with Ankara stood at $2.5 bln.
Turkey will be the first NATO country to purchase an air defence weapon of this class from Russia.