Tuesday 16 March 2021
Torgai Bauxite Mine Closes
Keywords:
0 forum post
NUR-SULYAN / ex ASTANA (ERG press service) — At the Torgay bauxite mine owned by Aluminum of Kazakhstan JSC (TBRU), a subsidiary of ERG (Eurasian Group), operations have virtually ceased. Most of the mine's employees have already been hired elsewhere.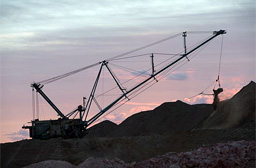 Meanwhile, some of them still have to complete the shipment of the previously extracted fireclay, the dismantling of machinery and equipment, and the securing of the site. In addition, procedures are underway for the free transfer of TBRU assets to the Arkalyk Authority, as well as to local entrepreneurs; their requests are being worked out with the local executive body.
The history of the Torgai Bositovoe mine (TBRU) began in 1956. In 1994, with the arrival of an investor represented by ERG, a new chapter was opened for the company, which was in crisis. In August 1996, TBRU was acquired by Aluminium of Kazakhstan, strengthening the group's aluminium division.
In more than 60 years of operation, TBRU has mined more than 1.5 billion cubic metres of ore, produced more than 80 million tonnes of bauxite and 20 million tonnes of fireclay.
According to ERG, the geological study and the conclusions of the State Commission on Mineral Reserves of Kazakhstan show that further work in this zone is associated with complex mining risks. For example, in 65 years, the reserves of the TBRU mines have been completely exhausted. Therefore, as early as 2017, the company launched a programme for the closure of the business.
As of 1 January 2020, the number of TBRU employees was 681. This represents 1% of the total number of employees in ERG companies and 1.4% of the total number of employees in the city of Arkalyk (41371 for 2019).