Monday 27 April 2015
Tajik, Uzbek Leaders Congratulate Nursultan Nazarbayev
Keywords:
0 forum post
ASTANA (KazInform) – Nursultan Nazarbayev has received greeting telegrams from President of Tajikistan Emomali Rahmon and President of Uzbekistan Islam Karimov on the occasion of his re-election as President of Kazakhstan.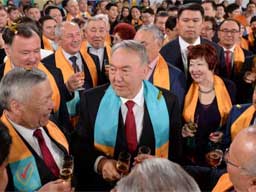 Emomali Rahmon expressed his heartfelt congratulations to Nursultan Nazarbayev on his victory in the presidential elections which took place yesterday April 26. Tajik President also stressed the development of mutually beneficial bilateral collaboration. "I am confident that you'll continue to contribute to the expansion and deepening of cooperation between our countries and peoples. For our part we will do whatever is necessary to further strengthen the friendly relations between the two states", the telegram says. At the end Emomali Rahmon wished the Head of State good health, long life, success and new achievements for the benefit of Kazakhstan.
Uzbekistan's President expressed confidence that the development and strengthening of bilateral relations is based on centuries-old ties of traditional friendship, good neighbourliness and mutual respect. "Taking this opportunity, I would like to wish you good health, inexhaustible energy and new success in your state activities, and the brotherly people of Kazakhstan – well-being and prosperity", the message reads.