Tuesday 2 October 2018
Saudi Delegation Visit Pakistan's Gwadar Port
Keywords: Pakistan, Saudi Arabia
0 forum post
ISLAMABAD (DAWN) — A six-member Saudi delegation on Tuesday visited Gwadar, where it was briefed on different developmental activities and projects being executed under the China-Pakistan Economic Corridor (CPEC), officials said. Led by Ahmad Hameed Al-Ghamdi, adviser of Saudi Arabia's Ministry of Energy, Industry and Mineral Resources, the delegation visited different departments of Gwadar port and the port's free zone.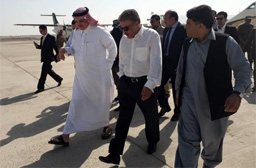 The Saudi delegation is in Pakistan on a four-day visit. At the conclusion of its visit, Islamabad and Riyadh are expected to sign four memoranda of understanding (MoUs) for oil and mineral sector investment and trade cooperation that would ultimately extend the Chinese Belt and Road Initiative (BRI) from Gwadar to Africa through Oman and Riyadh.
The Saudi team showed interest in investing in Gwadar and expressed satisfaction over the facilities and security situation in the area.
During the visit, Al-Ghamdi was quoted as saying that there are historical, religious and brotherly relations between Saudi Arabia and Pakistan. "Saudi Arabia stood with Pakistan in difficult times in the past and will do so in the future as well", the Saudi official told his Pakistani counterparts. He added that the Saudi government is keen about contributing to the development process in Pakistan.
According to Dawn's sources, Riyadh is expected to be allocated a large piece of land at Gwadar for setting up a 500,000 barrels per day refinery worth over $9 bln billion besides an oil storage facility for 2-3 mln tonnes as part of its plan to secure its export supplies. They said Pakistan promised 16% return on investment in the oil refinery.