Friday 16 November 2018
Russian Servicemen Depart for India for Military Drills
0 forum post
MOSCOW (TASS) — The majority of Russian servicemen, who are to take part in a Russian-Indian exercise, Indra-2018, left Russia's Far East on Friday, the Russian Pacific Fleet's press service said.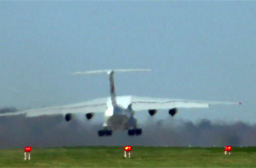 Two Il-76 military transport planes with 250 servicemen on board took off from the Russian Far Eastern city of Vladivostok.
Earlier, a group of Russian military officers arrived in India to assist in preparing the drills.
The Indra-2018 exercise will take place on November 18-28 and involve about 500 Russian and Indian servicemen. The Indian side will provide the Russian servicemen with combat hardware to drill practical actions. The troopers will drill joint planning of a peacekeeping operation, interaction between staff representatives and ground forces of the armies of the two countries as well as tactical manoeuvres to neutralize conditional illegal armed groups.