Rio Tinto to Invest in Copper Exploration in Kazakhstan
Monday 23 March 2015
ASTANA (KazInform) – Rio Tinto plans to invest $6 mln in exploration of Korgantas porphyry copper deposit in the Karaganda region, Kazgeologiya and Rio Tinto said in a joint statement.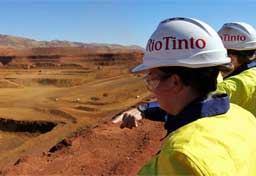 The transaction in respect of the subsoil use right and the joint venture for the Korgantas project has been completed between Kazgeology and Rio Tinto in February, 2015. The project is aimed at exploration and assessment of the Korgantas deposit to determine violability and feasibility of commercial production of copper and metals.
The created joint venture – Korgantas LLP – will begin field works on the Korgantas area using advanced technologies including the airborne survey in the second quarter of 2015. Technologies of geological and geochemical data base maintaining, scripts for 3D massifs modelling, SRC approved resources conversion into JORC standards, satellite images processing technologies and laboratory techniques for debris analysis to establish direct signs of mineralization will be considered for transfer purposes.