Rashid Alimov and Gu Xueming Discuss Prospects of SCO Economic Researchers' Cooperation
Tuesday 19 December 2017
BEJING (SCO press service) — On 19 December 2017, SCO Secretary-General Rashid Alimov had a meeting with Professor Gu Xueming, President of the Chinese Academy of International Trade and Economic Cooperation of the Chinese Ministry of Commerce, in Beijing.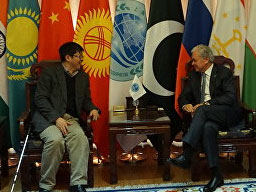 The parties noted cooperation growing more intense between the Secretariat and the Academy, exchanged views on the issues concerning economic action preparations ahead of the SCO Heads of State Council Meeting in China and the SCO Heads of Government Council Meeting (prime ministers) in Tajikistan. Specifically, they discussed developing an integration framework for SCO economics analytical centres and holding the regular SCO economic forum.
Rashid Alimov stressed:
The Academy is one of China's highly respected think tanks in trade and the economy that brings together prominent Chinese researchers, experts and professionals. The signing of the framework agreement between the SCO Secretariat and the Academy in 2016 allowed us to strengthen and integrate the analytical capacities of the researchers and scientists from the SCO member states for discussion of the Organisation's topical economic issues.
The meeting participants enjoyed a friendly and constructive conversation.