Thursday 25 March 2021
Qatari FM Visits Iraqi Kurdistan
2 forum posts
HEWLÊR-Erbil (eKurd) — Qatari foreign minister, who also serves as Qatar's deputy prime minister, Sheikh Muhammad bin Abdul Rahman al-Thani arrived on Wednesday in Erbil, as Qatar prepares to open a new consulate in Iraqi Kurdistan Region capital city. Thani previously travelled to Erbil in January 2020.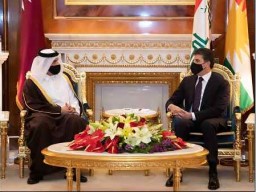 After landing in Erbil, he first met with Kurdistan Democratic Party KDP leader Massoud Barzani at his office in Pirmam. According to a statement from Barzani's office, Al-Thani said that the opening of the Qatari consulate in Erbil will "prepare a platform to on the economic and investment opportunities in the region, hoping that relations between Qatar and the region will witness further prosperity and progress."
Later al-Thani met with Massoud's nephew, Nechirvan Barzani, the president of Iraqi Kurdistan region, to discuss cooperation between the two sides, including preparations for a Qatari consulate in Erbil.. Barzani accepted an invitation from al-Thani to visit Doha. They also discussed opportunities in the Kurdistan region for Qatari investors.
The Qatari official arrived from Baghdad, where he had met with the Iraqi prime minister Mustafa al-Kadhimi in Baghdad on Wednesday morning, expressing Qatar's willingness to support Iraq in various fields and inviting Kadhimi to visit Doha, according to state media.