Qatar, France Explore Ways to Promote Cooperation
Tuesday 25 September 2018
DOHA (The Peninsula) — Prime Minister and Interior Minister Sheikh Abdullah bin Nasser bin Khalifa Al Thani met with the Ambassador of France to Qatar, Franck Gellet. The meeting discussed aspects of cooperation between the two countries and ways of promoting them, as well as issues of mutual concern.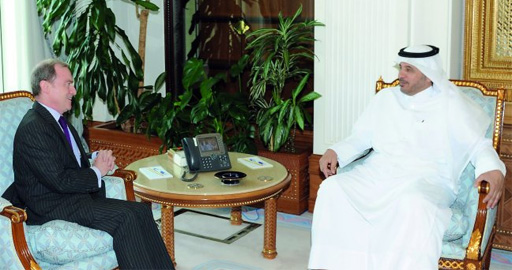 Expressing profound satisfaction over deep Qatar-France economic relations, the Ambassador of France to Qatar, Franck Gellet, has said that the economic relations between two countries are flourishing with passing time and in all circumstances. "In fact they are skyrocketing," he said in an exclusive interview with The Peninsula. The Ambassador said that there was a 30% increase in bilateral trade when 2017 is compared with 2016 and the volume of commercial exchange had touched QR10 bln that year.
According to the French Ambassador, around 200 French companies were operating or represented in Qatar and were contributing a lot to the infrastructure development of the country citing examples of the construction of Hamad Port, the metro and the tram, roads, industrial facilities.
To another question, the Ambassador said that French professionals were playing an important role in Qatar's services sector as well in particular in gas and oil sector: "Total came here around 80 years ago."
To a question, the Ambassador said that Qatar had smartly organised its economy and trade in the post-blockade scenario from which France had also benefited and offered its best technology, food and other products and services to Qatar. "Qatar says it deserves the best and we have the answer [in form of] proposing the best to Qatar", said Franck Gellet.