Thursday 30 March 2017
Pakistan to Invest in establishing in a New Assembly Line of MTZ Tractors
0 forum post
MINSK (MTZ press service) — Minsk Tractor Works (MTZ) was offered a site in one of the Special Economic Zones of the Punjab Province.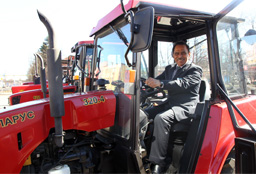 "Pakistan is ready to implement an investment project to open an assembly production of BELARUS tractors", said Minister of Industry of the Punjab Province Government Sheikh Allauddin during negotiations with top executives of Minsk Tractor Works. "We are ready to invest in a joint venture together with you (MTZ). In the near future, we would like to discuss possible cooperation terms in order to sign the contract as soon as possible", said Sheikh Allauddin.
The Minister of Industry suggested considering the placement of the production site in one of the Special Economic Zones of the Punjab Province. "If the assembly production is located in such a zone, we are also ready to consider the reduction of taxes and duties", the Minister stressed.
At the present, Pakistan's tractor fleet is estimated at 700,000 units. The annual market demand is about 85-90 thousand tractors.
During the talks Sheikh Allauddin noted that "BELARUS" tractors are well-known in Pakistan. Farmers value them for their quality and endurance. In turn, Director General of OJSC MTW Fyodor Domotenko, suggested selling agricultural technologies to Pakistani farmers in addition to assembling the tractors. "If we invest in the joint venture, it is logical to offer some technology to farmers instead of simple tractors. We could offer seeders, winnowers, ploughs and trailers", noted Fyodor Domotenko.
The sides also agreed that the future enterprise may assemble municipal vehicles in addition to agricultural machines. "We are ready to consider existing production sites and introduce the most modern and advanced technologies", stated Fyodor Domotenko.
MTZ began deliveries to Pakistan in 1955. Over the years of cooperation, more than 130,000 tractors have been delivered to the Islamic Republic. An enterprise for assembling "BELARUS" tractors was opened at the premises of the Orient Tractor factory in Pakistan in 2015. The enterprise is capable of turning out about 4000 units of equipment per annum.