Saturday 7 September 2019
Nazarbayev at the Inauguration of Kazakhstan's Pavilion at Moscow
Keywords: Russia
0 forum post
MOSCOW (KazInform) — First President of Kazakhstan Nursultan Nazarbayev is taking part in the inauguration ceremony of Kazakhstan's pavilion at the VDNKh (The Exhibition of Achievements of the National Economy, Russian: Vystavka dostizheniy narodnogo hozyaystva or Выставка достижений народного хозяйства)).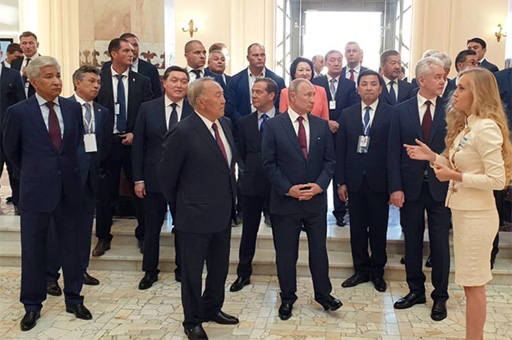 Nazarbayev is joined at the event by Russian President Vladimir Putin as well as prime ministers of the two countries Askar Mamin and Dmitry Medvedev. Nazarbayev presented Vladimir Putin with a kamcha (traditional Kazakh whip) as gift.
Nazarbayev paid also a visit to the Kazakh Embassy in Moscow as part on his working visit to the Russian Federation. Kazakhstan's Ambassador to Russia Imangali Tasmagambetov demonstrated the guests the renovated building of the Embassy. The delegation also visited the museum of the Kazakhstan-Russia relations and familiarized with the rarest exhibits.
VDNKh is a complex which nowadays serves as a popular public recreation area for Muscovites and visitors to the capital. The exhibition was integrated with the Botanical Garden and the Ostankino Park, and as a result, together they now form this vast recreational area. This is also the site of the Moskvarium, one of the biggest indoor aquariums in Europe both in terms of its floor space and the number of sea animals contained inside. All kinds of festivals, exhibitions, and fairs are held in the VDNKh pavilions as well as in the open air year round. A huge ice rink operates here in winter.
Most of the VDNKh pavilions are built in the Stalinist Empire style architecture between 1933 and 1955. They preserve the memory of their epoch. The first ever "All-Union Agricultural Exhibition" opened there in 1939.