Thursday 27 September 2018
Mogherini: Iran Should Benefit from Legitimate Economic Relations
Keywords: Iran
0 forum post
NEW YORK (Reuters, CNN) — The European Union's foreign policy chief, Federica Mogherini, said on Wednesday a so-called Special Purpose Vehicle (SPV) under consideration to facilitate trade with Iran could be in place "before November."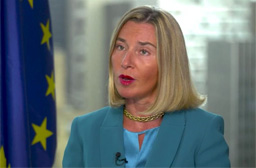 The SPV aims to keep trade flowing even if possible U.S. sanctions hit Tehran. Asked at an event in New York when it could be established, Mogherini said: "I believe before November."
The European Union foreign policy chief has stressed that Iran should benefit from its "legitimate" economic relations with the world. "We are putting in place measures that are making sure that Iran can continue to benefit from the legitimate economic relations it has with the rest of the world," Federica Mogherini told CNN an interview on last Tuesday. "We are putting in place mechanisms together with the Europeans but also with the Russians, the Chinese, with others in the world to create that channels to keep trade with Iran that would guarantee that the trade could continue regardless of the secondary sanctions that the United States have put", Mogherini stated.
She underlined that the EU is trying to keep the nuclear deal, officially known as the JCPOA, alive as a channel to maintain dialogue with Iran. "Not having the nuclear deal in place would not put us in a better position to discuss Iran the rest that we need to address."
"We spent 12 years negotiating Iran nuclear issues and that prevented us from talking about all the rest […] preserving that nuclear agreement allows us to build in it and address the other issues with an open channel of dialogue."
During her appearance on Fox & Friends, US Ambassador to the United Nations Nikki Haley addressed the approach of the European Union, namely that of Mogherini, towards the preservation of the Iran nuclear deal:
The European Union has this so wrong, and it's all because of their ego and their pride. You've got Miss Mogherini […] she's trying to hold the deal together because she did it, but she's not looking out for the best interest of the European countries who, number one, don't want to do business with Iran, and you can have that proof by the fact that the companies are dropping deals with Iran, they're not trying to get deals with Iran because they get who they're dealing with.
The UN envoy also somewhat reiterated the statements made by President Donald Trump during his speech at the General Assembly, claiming that Tehran was supporting terrorism.