Measures to Prevent Islamic Radicalism Discussed in Atyrau
Saturday 15 July 2017
ATYRAU (KazInform) — Minister of Religious Affairs and Civil Society of Kazakhstan Nurlan Yermekbayev took part in the Interregional Seminar on Prevention of Religious Radicalism and Extremism in Atyrau.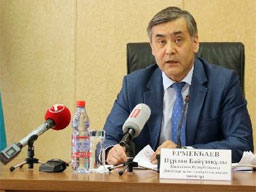 The Minister told the participants about the main provisions of the Concept of State Policy in the Religious Sphere for 2017-2020, noting that it offers a new format of state-confessional relations. The goal of the state policy in this sphere is the formation of an effective Kazakh model of the state and church interaction, based on the priorities of a secular state and zero tolerance for destructive ideologies.
In this meeting, Nurlan Yermekbayev said:
The issues of religious relations require the most serious attention. It is here that we see how the religiosity in people can outstrip the pace of the formation of religious culture. This contributes to the growth of susceptibility to radical ideology. Therefore, the rapid growth of religiosity can carry potential threats. We must take into account the multi-ethnical and multi-confessional nature of the country. And in these conditions, a secular system is the only true way of state's development. In a secular state, conditions are equal for everyone, regardless of their feelings towards religion.
Within the framework of his working visit to Atyrau region Minister Yermekbayev also held a meeting with the heads of law enforcement bodies, the chairmen of the regional and district antiterrorist commissions under the regional administration.
Prior to the wave of terrorist attacks in 2011, the problem of Islamic radicalism in Kazakhstan was less ubiquitous than in the other Central Asia republics. Kazakhstan had been considered the most stable and most secular among the post-Soviet states of Central Asia. The majority of Kazakhs consider themselves Muslim, but religion does not play as big a role in Kazakh society as it does in the neighbouring countries of Uzbekistan and Tajikistan, which are more patriarchal. Kazakhstan's post-Soviet authorities promoted the country's secularity as a point of pride for the nation.
However, this image is changing after a series of terrorist attacks. Although the security services managed to prevent most of the terrorist attacks that had been planned, the terrorist cells are still active.