Monday 8 March 2021
Lebanese Minister Concludes Syria Visit
Keywords: Lebanon, Syria, Syrian Conflict
3 forum posts
BEIRUT (NNA) — Caretaker Minister of Social Affairs, Ramzi Msharrafieh, on Monday concluded a visit to Syria with a meeting with Syrian Interior Minister Mohammad Khaled Rahmoun. The pair reportedly discussed the Syrian refugees' dossier.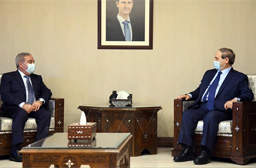 Msharrafieh had earlier held talks with Syrian Foreign Minister Faisal Mekdad, in presence of Deputy FM Bashar al-Jaafari, Syrian Ambassador to Lebanon Ali Abdel Karim Ali, and a panel of officials.
Also, Msharrafieh met with Local Administration and Environment Minister, Hussein Makhlouf, before holding talks with his Syrian counterpart Salwa Abadallah and Tourism Minister Mohammad Rami Martini, respectively.
In a statement to reporters, Msharrafieh has indicated that work is underway to overcome all obstacles hindering the repatriation of the displaced Syrians. He also highlighted the Syrian government's readiness for the return of its nationals:
There is full coordination between the two governments in order to guarantee a secure return of Syrians.