Tuesday 26 January 2021
La Bayadère to Be Performed at Astana Opera
Keywords:
0 forum post
NUR-SULTAN / ex ASTANA (KazInform) — On January 30, at the Astana Opera Grand Hall, there will be a debut in Ludwig Minkus' large-scale ballet La Bayadère staged by the artistic director of the opera house's ballet company, People's Artist of Russia Altynai Asylmuratova.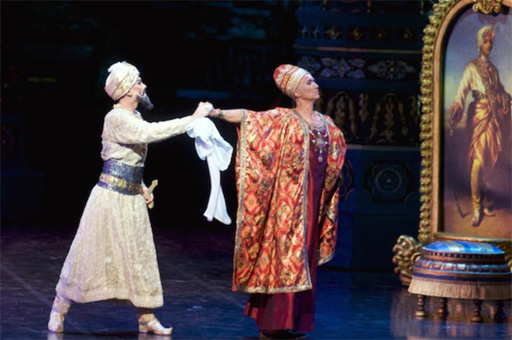 The Grand Hall of the Astana Opera will host the premiere of Ludwig Minkus' ballet La Bayadère on January 30, staged by the artistic director of the opera's ballet company, Russian artist Altynai Asylmuratova.
For the first time, the ballet company soloist Anastasia Zaklinskaya will perform the main role of the temple dancer — the bayadère Nikiya.
La Bayadère (Баядерка, "the temple dancer") is a ballet, originally staged in four acts and seven tableaux by French choreographer Marius Petipa to the music of Ludwig Minkus. The ballet was staged especially for the benefit performance of the Russian Prima ballerina Ekaterina Vazem, who created the principal role of Nikiya. La Bayadère was first presented by the Imperial Ballet at the Imperial Bolshoi Kamenny Theatre in St. Petersburg, Russia, on 4 February 1877. From the first performance the ballet was universally hailed by contemporary critics as one of the choreographer Petipa's supreme masterpieces, particularly the scene from the ballet known as "The Kingdom of the Shades", which became one of the most celebrated pieces in all of classical ballet.
Astana Opera's Principal Dancers Olzhas Tarlanov and the Honoured Worker of Kazakhstan Anel Rustemova will portray the noble warrior Solor and the princess Gamzatti. Ballet dancers Zhanibek Imankulov and Rakhmetulla Nauanov will perform the roles of the High Brahmin and Rajah Dugmanta. The ballet company soloist Serik Nakyspekov will take the stage as the Golden Idol.
The Astana Opera Symphony Orchestra, music director and conductor is Arman Urazgaliyev. Assistant Choreographers ate the Honoured Artist of Russia Konstantin Zaklinsky, Elena Sherstneva.