Home > Kazakhstan > Kazakhstan's Air Astana celebrates 9th anniversary
Kazakhstan's Air Astana celebrates 9th anniversary
Tuesday 24 May 2011
Air Astana, Kazakhstan's principal airline, is marking its ninth anniversary by officially presenting the first new Embraer E-190 airliner at a ceremony attended by VIPs, government officials and the media in Almaty today. The Embraer E-190 has been selected to increase domestic and regional services from Almaty, the carrier's hub for Central Asia, with new services to Tbilisi, capital of Georgia and Samara in southern Russia starting on 2nd June 2011.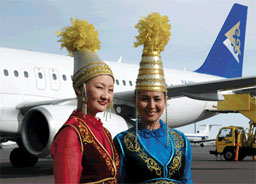 ---
View online : Source article
Any message or comments?