Wednesday 19 August 2020
Kazakhstan Resumes Flights with 7 Countries
Keywords: COVID-19
0 forum post
NUR-SULTAN / ex ASTANA (Xinhua) — Kazakhstan has begun resuming flights to the United Arab Emirates, Belarus and Germany, among other nations, local media reported.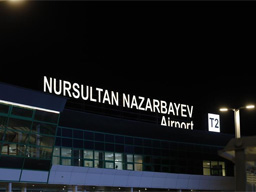 According to Nursultan Nazarbayev International Airport, a plane from the country's capital to the German city of Frankfurt took off on early Tuesday morning with 94 passengers on board, becoming the first direct flight between Kazakhstan and Germany since March.
Passengers aboard the plane must pass a COVID-19 test within 48 hours before their departure or within 72 hours after entering Germany.
The international flight resumption coincides with most regions of Kazakhstan lifting their second coronavirus lock on Monday. However, some measures, such as the weekend lockdown, will still remain in force.
Kazakhstan imposed its second nationwide lockdown since July 5 due to a spike in COVID-19 and pneumonia cases. The health ministry said the current epidemiological situation has stabilized with new cases and bed occupancy dropping significantly since August.
As of Tuesday, Kazakhstan has recorded 103,300 confirmed COVID-19 cases, including 84,445 recoveries and 1,415 deaths. Since Aug. 1, the country has also logged 18,673 pneumonia cases with COVID-19 clinical symptoms, including 220 pneumonia-related deaths.