Friday 26 August 2011
Kazakhstan May Have 8 million tons of Unclaimed Grain
Keywords:
0 forum post
ASTANA (Trend News Agency) – Some 8 million tons of grain may remain unclaimed in Kazakhstan due to high yields, Food Contract Corporation Chairman Beybithan Kabdrakhmanov said at a press conference in Astana today.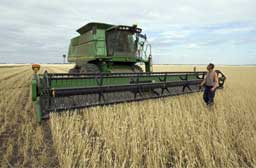 He said the company expects the harvest will be above average – some 19 million tons in 2011, about 8 million of which is for domestic consumption. He recalled that Kazakhstan traditionally exports about six million tons of grain. He said three million tons of grain from the 2010 harvest remained on the hands of farmers.
"Given that some 8 million tons of grain will remain unclaimed, it was decided to subsidize exports. That is, the expenses of exporters, who will export grain through the territory of Russia and China, will be partly reimbursed – at the rate of 6,000 tenge per ton. This is just more than $40," he said.
Meanwhile, in spite of a rather good crop this year, Azerbaijan plans to import grain from Kazakhstan. Today in Baku, Kazakh Ambassador Serik Primbetov declared the issue of Azerbaijan's grain purchase from Kazakhstan is under consideration. "If an agreement is reached and taking into account the volume of Kazakh oil transit through Azerbaijan, the level of trade turnover between the two countries can reach US $500 million in 2011", Primbetov said.
According to the Ambassador, in 2010 trade turnover between the two countries totalled $444 million of which $342 million was exports from Kazakhstan and $102 million on imports of Azerbaijani goods to Kazakhstan.