Home > Kazakhstan > Kazakhstan Delays his Withdrawal from United Energy System
Kazakhstan Delays his Withdrawal from United Energy System
Friday 20 January 2012
BISHKEK (24.kg news agency) – "After negotiations Kazakhstan delay his secession from United Energy System (UES)," said general manager of PR department of Kazakh KEGOC JSC (Kazakhstan Electricity Grid Operating Company) electricity controlling company Marat Mukhamedsaliev to 24.kg news agency.
According to him, Kazakhstan delayed his withdrawal from UES after Kyrgyzstan's Energy Ministry request. "We were going to leave today but our Kyrgyz colleagues persuaded us not to do it. So, we agreed to wait," he explained.
He noted that Uzbekistan owes US $15M for "unsanctioned siphoning" of Kazakh electricity. "Republic of Uzbekistan promises to pay his debts in March. This problem is being examined right now," said Marat Mukhamedsaliev.
The negotiations with Kazakh side have been mediated by Kyrgyzstan's National Electric Net OJSC Director General Medetbek Aytkulov. The withdrawal of Kazakhstan would lead to the shortage of electricity in the North of Kyrgyzstan (up to 40%).
UES operates IPS/UPS which is a wide area synchronous transmission grid of some CIS countries with a common mode of operation and centralized supervisory control. It has an installed generation capacity of 300 gigawatts, and produces 1,200 TWh per year for its 280 million customers. The system spans 8 time zones.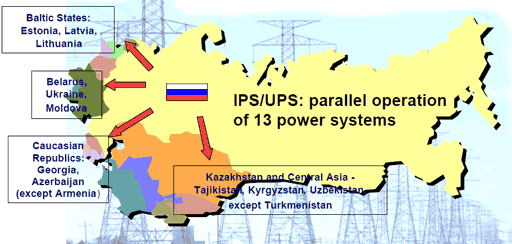 The creation of the unified power system started in 1956 by interconnecting of power systems of Centre and Middle Volga. By 1978, the unified power system included all of the Soviet Union, excluding Central Asia. In addition, in 1979-1993 the power systems of Poland, German Democratic Republic, Czechoslovakia, Hungary, Romania and Bulgaria, now part of the synchronous grid of Continental Europe (ENTSO-E), operated synchronously with the Unified Power System of USSR. Central Asian countries (excluded Turkmenistan) were included to the integrated system in 2001. In 2009, Uzbekistan disconnected from the system resulting also disconnection of Tajikistan
Any message or comments?