Home > Kazakhstan > Kazakhstan and Russia hold TV linkup on public procurement auctions
Kazakhstan and Russia hold TV linkup on public procurement auctions
Thursday 14 July 2011
(Caspionet) – Public procurement tenders and auctions will be held in an electronic format starting from July 1, 2012. Starting from this date, Russian and Belarusian companies will be able to participate in them as part of the Customs Union.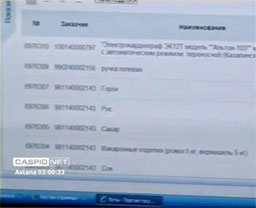 This was discussed during a television linkup by representatives of Finance Ministries of Kazakhstan and Russia. According to the Kazakh Finance Ministry's estimates, thanks to the electronic system, the country has saved more than 14 billion of budget funds since the beginning of 2011.
Auctions will be held at electronic trading platforms of the three countries with Kazakhstan and Belarus having one platform each and 5 of Russia.
In addition to electronic platforms for auctions, the Russian side suggested creating a common website for documentation to ensure transparency of procedures.
The Russian side also offered each country to establish a register of unfair suppliers and to disqualify them for two years.
Any message or comments?