Kazakhmys' Miners Go on Strike for Higher Wages
Sunday 6 May 2012
ALMATY (Reuters) – Copper miners in Kazakhstan went on strike on Saturday, staying inside a mine owned by Kazakhmys to demand higher wages from their employer in a move likely to unnerve authorities in the Central Asian state just months after deadly oil town riots.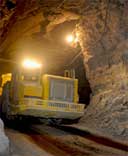 Established in 1930 and focused on copper production, Kazakhmys PLC is the world's 11th largest copper producer and is among the world's leading natural resources groups. They are based primarily in Kazakhstan, listed in London and Hong Kong, and are a part of the FTSE 100 Index.
The company said it understood that the strikers were seeking a wage increase for workers carrying out basic tasks at the mine such as drilling. Kazakhmys said it had brought in officials from the nearby town of Satpayev to participate in discussions and urged workers to open negotiations.
It said it had increased salaries across the entire group, including miners' salaries, by an average of 20% in 2010. Since February 2011, it had offered performance-related bonuses of up to 15%, it said. The company source said the average monthly salary for Kazakhmys miners was around 240,000 tenge ($1,622), nearly three times the national average.
Kazakhmys operates mines and concentrators in three regions: Zhezkazgan Region, Central Region, East Region. Situated in the Zhezkazgan Region, Annensky is one of six underground mines operated by Kazakhmys in this area which is their largest mining and concentrating region, contributing around 70% of Group mined ore. The region consists of seven mines (one open-pit) and three concentrators.
Last April, Kazakhmys reassured markets by reaffirming that it's on track to meet its full-year copper output target after taking into account a 13% drop in copper cathode production from its own concentrate due to lower copper in concentrate output.