Saturday 20 October 2018
Kazakh President Meets Putin, Uzbek President
Keywords: Russia
0 forum post
ASTANA (Akorda press service) — President of Kazakhstan Nursultan Nazarbayev has held a meeting with Vladimir Putin and Shavkat Mirziyoyev in Saryagash, Turkestan region.
Putin and Mirziyoev have launched the construction of a nuclear power plant in Uzbekistan's western region of Navoiy, which Moscow estimates will cost $11 bln. Uzbekistan would add two more blocks to the plant in the future, doubling its capacity. The main supplier of the nuclear fuel for this plant will be Kazakhstan.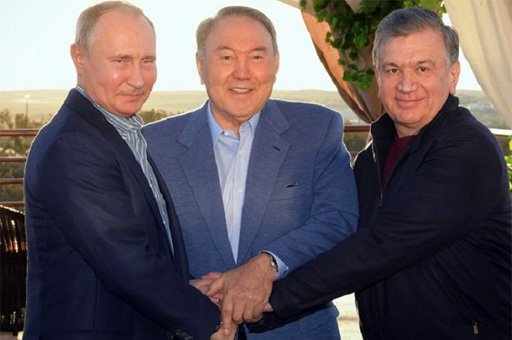 During the informal meeting, the heads of state discussed the topical issues of cooperation between the countries, including in the trade, economic, cultural, and humanitarian spheres.
In addition, the sides considered the issues of interaction between the Republic of Kazakhstan, the Russian Federation, and the Republic of Uzbekistan within the CIS and other international organizations. The leaders also exchanged views on the key aspects of the regional and international agenda.