Tuesday 17 July 2018
Kazakh Car Makers Manufactured 80% More Cars in H1
Keywords:
0 forum post
ALMATY (Interfax-Kazakhstan) — Automobile production in January-June 2018 increased 80% year over year, the Kazakhstan's Automotive Industry Association said. The recovery of the market after the fall in sales during 2014-2016 was one of the most important events in the country's economy since 2017.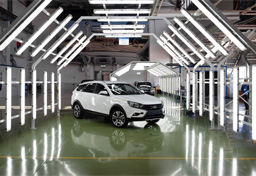 Sales of new passenger cars and light commercial vehicles grew by 28.6% up to 5,369 units in Kazakhstan in June. For 6 months of 2018, the republic's residents bought 25,989 vehicles - more by 37.8% compared to the same period of the last year, according to the Union of Automobile Industry of Kazakhstan KazAvtoProm.
The leader in the Kazakhstan car market in the first half of the year was the Russian brand LADA, which was sold in amount of 5,879 vehicles. The second place was taken by Japanese Toyota, the result of which was 5,599 units. The third position was kept by Hyundai — 3,398 buyers chose vehicles of this brand. The Uzbek brand Ravon is the next with an amount of 1,709 sold units. The TOP- five of leaders is closed by the Russian GAZ, dealers of which sold 1310 vehicles in Kazakhstan.
Oleg Alferov, the Chairman of the Board of Directors of KazAvtoProm, noted that the main driver of growth is demand for Kazakh cars: their sales doubled in the first half of the year, while sales of imported vehicles grew only by 7.5%:
The dynamics of the market in the first half of the year exceeded significantly our expectations: the cumulative increase in sales approached 38%. Conservative scenario presupposed a rate of 25%. Today, a favorable macroeconomic background allows us to forecast the market growth at the year-end at the level of 35%.
Since March 2017, the domestic car market has demonstrated positive dynamics. Last year, official dealers sold 49,051 units of cars, commercial vehicles and buses. Demand for new cars increased 6.1%. Last year has been successful not only for importers, but also for manufacturers of domestic cars. According to the association, in 2017, six Kazakh automobile plants produced 19,086 pieces of equipment (cars, trucks and buses) worth $435.2 mln. This triples the results of 2016.
Meanwhile, a new automobile manufacturing line is gaining momentum in Kazakhstan. By the end of 2018, Kostanay's automotive plant will manufacture its first electric cars of the latest generation. The joint Kazakh-Chinese project will be a breakthrough and will make domestically manufactured cars more competitive and export-oriented.