Wednesday 19 September 2018
Karl Marx Avenue Renamed in Ust-Kamenogorsk
Keywords:
0 forum post
ALMATY (YK-news.kz) — Karl Marx avenue was renamed in Ust-Kamenogorsk in Kazybek bi, reports.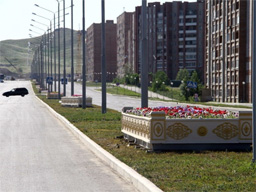 "Tomorrow will be held in Ust-Kamenogorsk the solemn opening of the perspective (boulevard) with its new name: Kazybek bi",the city department of domestic policy declared on Wednesday.
Last year the Hakimat ("mayor") of Ust-Kamenogorsk received a proposition from the chairman of the regional court, the Council of Veterans and the Council of Aksakals to rename the prospectus in order to perpetuate the memory of Kazybek bi in honour of celebrating its 350th anniversary.
On March 2, 2018, approval was received for renaming from the republican onomastic commission.
The 1991 independence brought the statehood and opportunity to claim back Kazakh heritage and history. However, Kazakhstan did not start writing its history in 1991 nor did it start from the blank page-from the late nineteenth century and in the twentieth century generations of writers were involved in this complex process of writing and rewriting historical-national canons and imaging the nation.